Title
Preview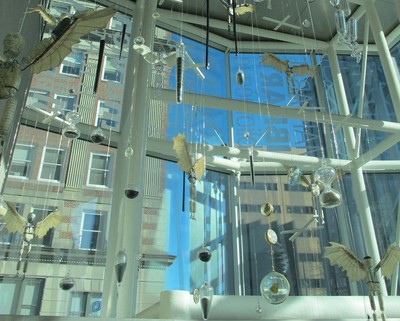 Medium
glass and plastic puppets, lenses, metal wire, sand, insects and carborundum
Digital Format
image/jpeg
Document Type
Three Dimensional Object
Location
This piece hangs in the atrium of the Portland Public Library.
Physical Format of Original
Installation
Size of Original
20' x 6' x 24'
Contributing Institution
Portland Public Library Special Collections & Archives
Description
The multi-media installation "The Feathered Hand" by Maine artist Alison Hildreth takes its inspiration from poetry, puppetry, lenses and glass vessels. It is at once complex and beautifully simple, ever-changing as the day unfolds and the light changes.
The sculpture is suspended in the sun-lit Main Library Atrium near the Elm Street entrance and is comprised of glass and plastic puppets, lenses, metal wire, sand, insects and carborundum; it measures 20′ x 6 x 24′.
Hildreth states: "The puppets are seen hanging with groups of lenses that can enlarge or diminish them. They are interspersed with alchemical vessels of varying sizes and shapes. The installation reflects a long-term interest that I have had in puppets since childhood, a time in our lives when our imagination is so vivid and we can invest our dreams and aspirations in inanimate objects. Much of my work has its genesis in books, and I am so very happy to have The Feathered Hand in the Portland Public Library."
The piece takes its title from a poem by Polish poet Zbigniew Herbert entitled "Chosen By The Stars":
It is not an angel it is a poet he has no wings only a right hand covered by feathers he beats the air with his hand flies up three inches and immediately falls again
When he has fallen all the way he kicks with his legs hangs for a moment waving his feathered hand…
Recommended Citation
Hildreth, Alison, "The Feathered Hand" (2013). Art@PPL images. 15.
https://digitalcommons.portlandlibrary.com/artppl_images/15
Keywords
feathered hand, alison hildreth
COinS
Rights Statement