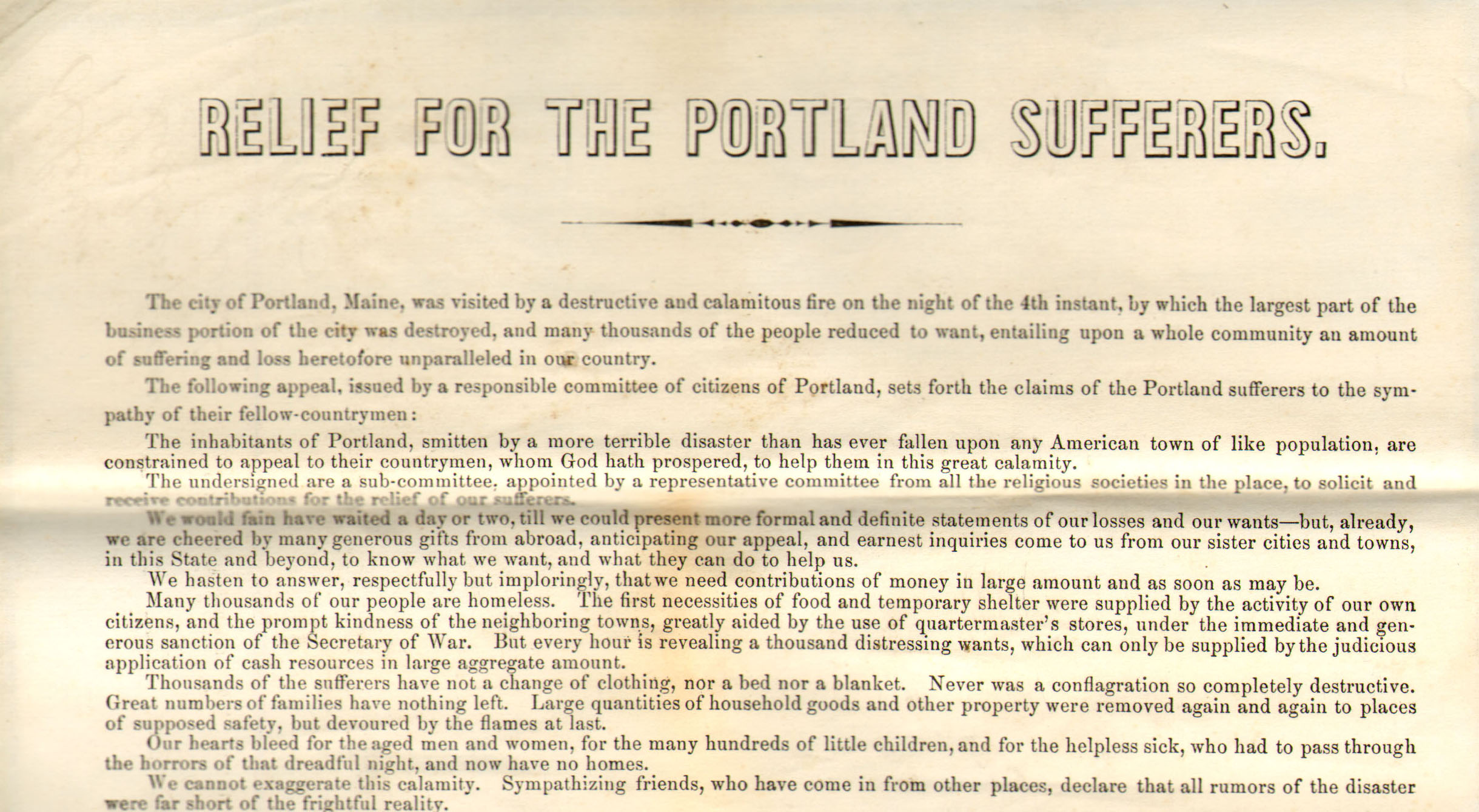 The city of Portland, Maine sustained the most devastating fire in its history, during the late afternoon of July 4, 1866. A large stockpile of fireworks kept in storage near Hobson's Wharf (Commercial Street, at the base of High Street) ignited amidst what is believed to be foul play among vandals, and began a fire that spread eastward across downtown Portland. At the center of the fire's crippling destruction was Portland's financial and commercial district, including banks, merchants' offices, shops, publishing operations, libraries, and shipping agencies. The major work of rebuilding Portland's infrastructure required years of construction.
The manuscript collection Relief for the Portland Sufferers : The Great Fire, 1866 comprises approximately 5 linear feet of descriptive reports of the recovery effort in Portland, rosters of financial pledges, and personal letters which accompanied numerous private contributions of money, supplies, and assistance addressed to the office of Mayor Augustus E. Stevens, in Portland. Many of the letters include the writers' expressions of sympathy for the city's losses.
After the monetary donations were separated from the letters, and the donors were acknowledged (between July 1866 and early 1867), the city's office workers set aside the letters in a 12" x 16" x 7" metal bank deposit box, with the rolled pledge rosters. The metal box and its written contents were later given directly to the Portland Public Library. The collection has been arranged into 6 series, by records type, place of origin, and date of writing.
Complete Finding Aid to this collection
The collection consists of hundreds of documents. Selections from the collection have been digitized and uploaded here. This digital collection is still a work in progress -- please stay tuned for more!
To see pictures of the city in ruins after the fire, see our collection of Stereographic Images of the Great Fire.
Printing is not supported at the primary Gallery Thumbnail page. Please first navigate to a specific Image before printing.