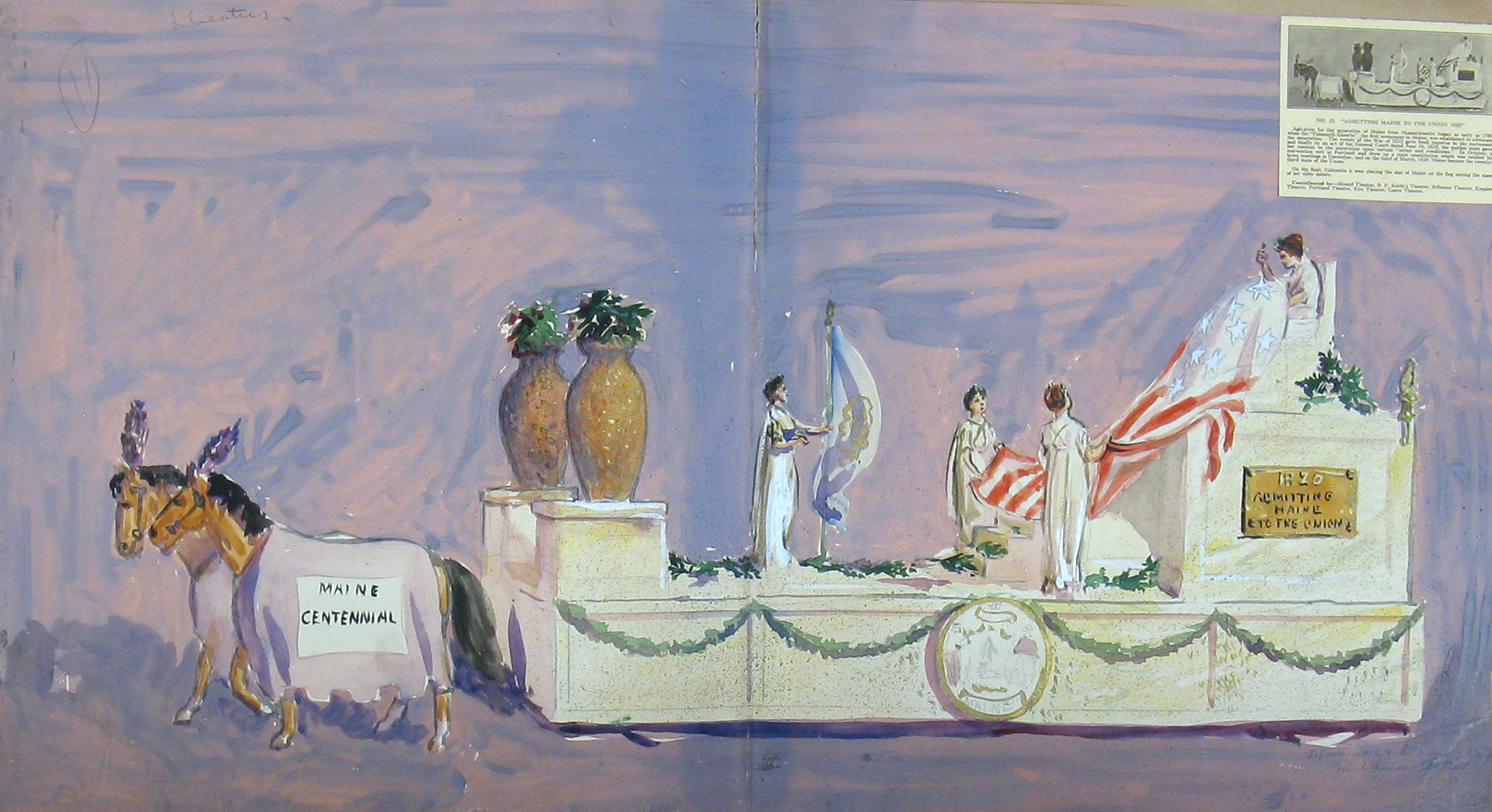 In 1920, to mark the occasion of one hundred years of statehood, festivities blossomed across the state of Maine, including a multi-day extravaganza in Portland. The Historical Floats Parade, held on Monday, July 5th, 1920, was a highlight of the celebration, with well over a dozen floats that represented "an immense moving picture, as it were, of events in Maine's history." (Boston Herald, June 29, 1920)
No expense was spared, with some of the floats costing up to $1,200 (that would be about $15,000 in 2020). The majority of the floats were designed by the New York firm of Messmore & Damon, Inc., a company that also designed and built exhibits for the 1933-34 World's Fair in Chicago (Century of Progress Exhibition), and both New York World's Fairs (1939-1940 and 1964-1965). Joseph Damon (1882-1962), one of the firm's founders, painted preliminary sketches for some of the parade floats.
These sketches wound up in the hands of Fred H. Gabbi, Business Manager of the Maine Centennial Committee, who included them in a scrapbook he compiled about the Centennial. (Credit for the scrapbook should go, though, to Georgia Fales, secretary for the Centennial Commission, as it was she who performed the heroic task of cutting, pasting, and labeling hundreds of newspaper clippings). The scrapbook, a two-foot high behemoth, is held in the collections of the Portland Public Library. Glued to the top corner of many of the paintings are the black-and-white reproductions and accompanying captions that were printed in the official program of events.
We hope you will enjoy this selection of images from the scrapbook. The sketches for the floats reflect the attitudes of their time, in some instances revealing outdated perspectives and a decidedly Caucasian, Eurocentric outlook. The picture of Maine's history that they paint is not the picture that today's historians, artists, and float designers will paint. What will Maine's tercentenary celebrations look like?
Printing is not supported at the primary Gallery Thumbnail page. Please first navigate to a specific Image before printing.