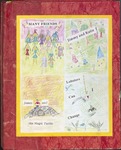 Title
Publisher
Peaks Island School
Digital Format
application/pdf
Size or Extent of Original
137 pages
Description
During the school year 2000 – 2001, Author/Illustrator Debby Atwell came to Peaks Island School for a week, working with the students to make a book of short stories. There were four classes that year, Kindergarten, Grades 1-2, Grades 3-4 and Grade 5. Each class created its own story in an unusual arrangement where the class collaborated on the story, with each student getting to write a page, but another child would illustrate that text. When the work was complete, Debby Atwell took it home and bound the stories into a single volume with handmade-paper-covered board covers.

The Stories and the Student Authors:
Chapter 1: Many Friends: Liam Fox, Emily Lani, Jamie Moore, Olwyn Moxhay, Hannah Sophie Smith, Victoria.
Chapter 2: Jimmy and Katy: Otto Barn, Nolan Bateman, Neala Broderick, Alexandra de la Bruere, Hugh Carroll, Anna Conley, Maria DeMichele, Ellis DuCharme, Olivia Edwards, Keanan Fox, Morgan McTigue, Evan Michalski, Dexter Morse, Mason Norton, Hannah Rindlaub, Lindsey Sinicki.
Chapter 3: James and the Magic Turtle: Aurimas Bukauskas, Ian Carlson, Connor Flynn, Chase Huckestein, Tori Huckestein, Mark Kinner, Leigh Mills, Jeffrey Morris, Nathaniel Coleman Mulkern, William Murdock, Cooper Van Vranken.
Chapter 4: Lobsters Can Change, Sean Broderick, Sara Cannon, Alexandra Clark, Kieran Conley, Will Day, Erica DeMichele, Ashley Gross, Markus Kamp, Jen Mulkern, Matthew Mulkern, Mitchell Murdock, Echo Presgraves, Nathaniel Walden.
Keywords
Peaks Island School, Children's literature, Stewardship, Time travel, Friendship, Grandparents, "the old days"
Subject
Children's writings, American ; Children's drawings ; Island life
Contributing Institution
Portland Public Library Special Collections & Archives
Recommended Citation
Peaks Island School, "Many Friends" (2001). Local Printed Material. 10.
https://digitalcommons.portlandlibrary.com/peaks_local_printed/10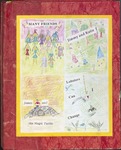 COinS
Rights Statement