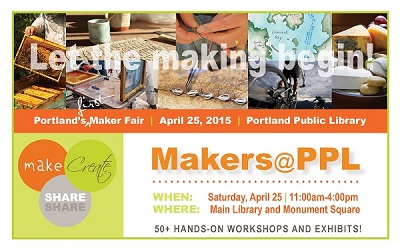 At a table in the Rines Auditorium during Portland Public Library's first annual maker fair, Catherine Fisher, personal historian, asked attendees of the fair and fellow exhibitors to sit for a brief, recorded audio interview about making. The questions they were asked had to do with what they make, why and how they make it, where they make it, and how their product and/or process might be impacted by that place. The fourteen participants (6 men and 8 women) ranged in age from late 20s/early 30s to late 60s, and the media in which they make included cartoons, writing (poetry, fiction and non-fiction), artist's books, painting, ceramics, photography, music, story, podcasting, technology and exhibit creation, 3-D printing, jewelry, graphic design, sewing, quilting and decorative wastebaskets. The interviews range in length from 4 minutes, 58 seconds to 19 minutes, 37 seconds.
"The audio recordings are filled with the background noise of the gloriously jam-packed auditorium, rich with the sounds of people and machines, and although the narrators in the interviews had to compete with the constant din, all the interviews are audible, albeit to varying degrees of clarity. I like the way the interviews not only preserve each storyteller's testimony of making but the activity of making and learning happening concurrently in the room." --Catherine Fisher
Printing is not supported at the primary Gallery Thumbnail page. Please first navigate to a specific Image before printing.