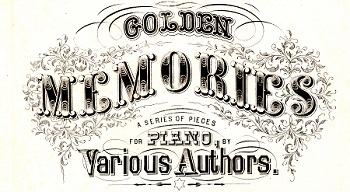 The Portland Room Sheet Music Collection consists of hundreds of pieces of music, some handwritten copies, some published with colored lithograph covers, all written by composers with ties to the state of Maine. Many of the pieces are undated, but the bulk of the pieces date from the late 1800s to the mid-1900s. Only a small portion of the collection has been cataloged and/or digitized to date. The pieces are filed alphabetically by composer in the Portland Room Archives. For more information, please contact portlandroom@portlib.org.
The sheet music digitized and made accessible in this repository is presented as part of the historical and cultural record. The topics, illustrations, and language reflect the attitudes and beliefs of earlier times and may be harmful or disturbing.
Printing is not supported at the primary Gallery Thumbnail page. Please first navigate to a specific Image before printing.