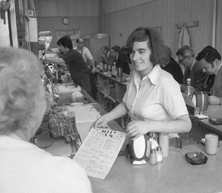 Local restaurant menus from a variety of diners and restaurants in Portland, Maine. Most of them were collected in July 1982 by a student worker at the Library.
(Please check back often as we are actively working on this collection!)
Printing is not supported at the primary Gallery Thumbnail page. Please first navigate to a specific Image before printing.
Puritan Tea Room

1951 menu (20 July 1951) from the Puritan Tea Room, 566 Congress Street, Portland Maine. The restaurant and confectioner was in business from 1922-1974.

Carbur's Restaurant

1982 menu from Carbur's Restaurant, 123 Middle Street, Portland Maine. The restaurant was in business from 1977-1997.

Deli One

1982 menu from the Deli One restaurant, 106 Exchange Street, Portland Maine.

Photographs of Deli One, from 1979 and 1986 can be seen at this link..